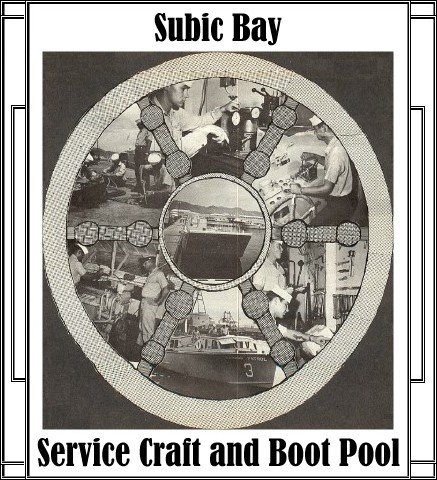 ---
WELCOME TO THE SUBIC BAY
SERVICE CRAFT and BOAT POOL SECTION
The Service Craft and Boat Pool main duties were the patroling of the Harbor of Subic Bay/Cubi Point Areas. It was the duties of the Harbor Boat Patrol to patrol the waters of Subic Bay for unauthorized boats in restricted waters, always with the assistance of an Armed Base Security Policeman.
Other duties consisted of Tugboats, Yard Oilers (YO's) and Pusher Boats. Also transporting personel and supplies, to and from ships at anchor, also, landing and retrieving Marines and equipment on beaches for training operations.
The Boat Pool Division was made up of Boan Mates Fireman and Enginemen who worked together to operate and maintain the boats and equipment for the many various duties required of the tight nit group of guys, 24 hours a day, through out the year. Boats that were used also included, LCM's, LCVP's, Utility and Harbor Patrol Vessels.
---
This page is presented for those that were part of Boat Pool section of the Subic Bay Naval Base. We welcome all who were a part of the area to check in with us and make your presents know. It would be great to reunit with all who were a part of the Former Boat Pool unit. So join us! We will be looking forward to hearing from you.

---
[ Back To Naval Menu ] [ Back To Home Page ]